Let's be honest, Lightbulb Media has been around the block. We've seen the big, the small and of course, the happy medium…
And although your business size doesn't matter, your strategy definitely does.
Here are some of the best and easiest ways you can up your marketing game and never have to fake it again.
Branding
Don't let potential consumers slip through your fingertips by making these two common branding mistakes...
1. Committing to the wrong visuals too early


Many of us chose our brand visuals without thinking of our key audience.
Get to know your audience by finding out their desires and whether or not you match them.
Ask key questions like:
What are their hobbies?
How do they behave?
What is their culture?
Where do they shop?
What are their challenges?
What is their income?
It's important to know who you're getting into bed with, after all.
2. Staying in one position...
With brand positioning, it's important to consider what inspires you, who you want to be and who your direct and indirect competitors are…
But don't be afraid to try new things!
Start with:
· Outlining your competitors' advantages and writing down your own.
· Think about who your competitors are targeting.
· Update where you fit within your current marketplace.
· List where your brand will be seen.
· Highlight primary touchpoints (making sure you engage with them all.)
And position yourself... differently
Copy
Do you want your audience hanging on your

every

word?
With consumers becoming more aware of marketing methods it's important to keep your copy simple yet conversational.
Going in dry isn't fun for anyone.
Entice your audience by:
Using direct addresses to make them feel special.

Incorporate contractions to minimise required effort.

Cutting out jargon and being direct.


Asking questions to keep them keen.


While content and copy writing regularly overlap, it's important to be aware of your copy's purpose.
Too many brands make the mistake of skipping the fun and rushing straight in.
Your words should guide your audience as they transition down the marketing funnel.
Start with your content writing...
- Are you building on your brand awareness?
- Have you got strong brand values?
- Are you writing to inform, educate or entertain?
Once you've built a stronger foundation, ease into more direct copy.
- Have you added a clear CTA?
- Are you testing different variations?
- Have you targeted specific pain points?
Web
This focus on customer journey and brand relationship should be incorporated throughout your website too.
We often see key components missing.
Here's a quick checklist you can incorporate in your next website audit.
Are there clear CTA buttons?
Have you featured testimonials?
Do you have an About us page?
Are there any broken links?
Do you have a plug in, to help up-sell and cross sell?
How easy is the checkout process?
Is there an express checkout process?
Have you considered buy now, pay later options?
Do you re-target potential customers who have abandoned their shopping cart?
These are the questions you should be asking to help get your consumer to the finish line
PPC
If you're finding yourself on the edge of success, but can't quite get there, then it's time to revisit your ad content.
With the average attention span being 8 seconds, you need to leave a lasting impression quicker than ever.
The worst mistake you can make is wasting that time and money, peacocking to people who are simply not interested.
Be strategic on who sees your ads and where they're placed.
You wouldn't go on Linkedin to find a date.
For some reason everyone thinks that running ads is just clicking a few buttons and hoping for the best.
I hate to break it to you but that isn't seducing anyone.
It's all about acting with knowledge and intent.

Here are some of our biggest icks when it comes to PPC...
🚩 Clients writing their own ad copy
🚩 Boosting posts
🚩 Not having tracking pixels on their website
🚩 Wasting money on underperforming ads
🚩 Not continuously split testing
🚩 Not using any UGC
You might as well be flirting with a tree.
Social
Algorithms change faster than my weekly Marvel superhero crush.
But don't give up.
Be consistent with your messaging and keep the conversation going with organic and paid social content.
For service-based business, it's all about community engagement.
Support other people by engaging with their content, reshare posts on your own story, leave comments, and retweet what's relevant.
Remember that people don't go to social media to be advertised to.
We want to be entertained, informed or educated.
Specsavers, Duolingo and RyanAir are all great examples of how to do social media successfully.
But don't forget about the

aesthetics
Getting mixed messages?

Here's our do's and don'ts in simple terms: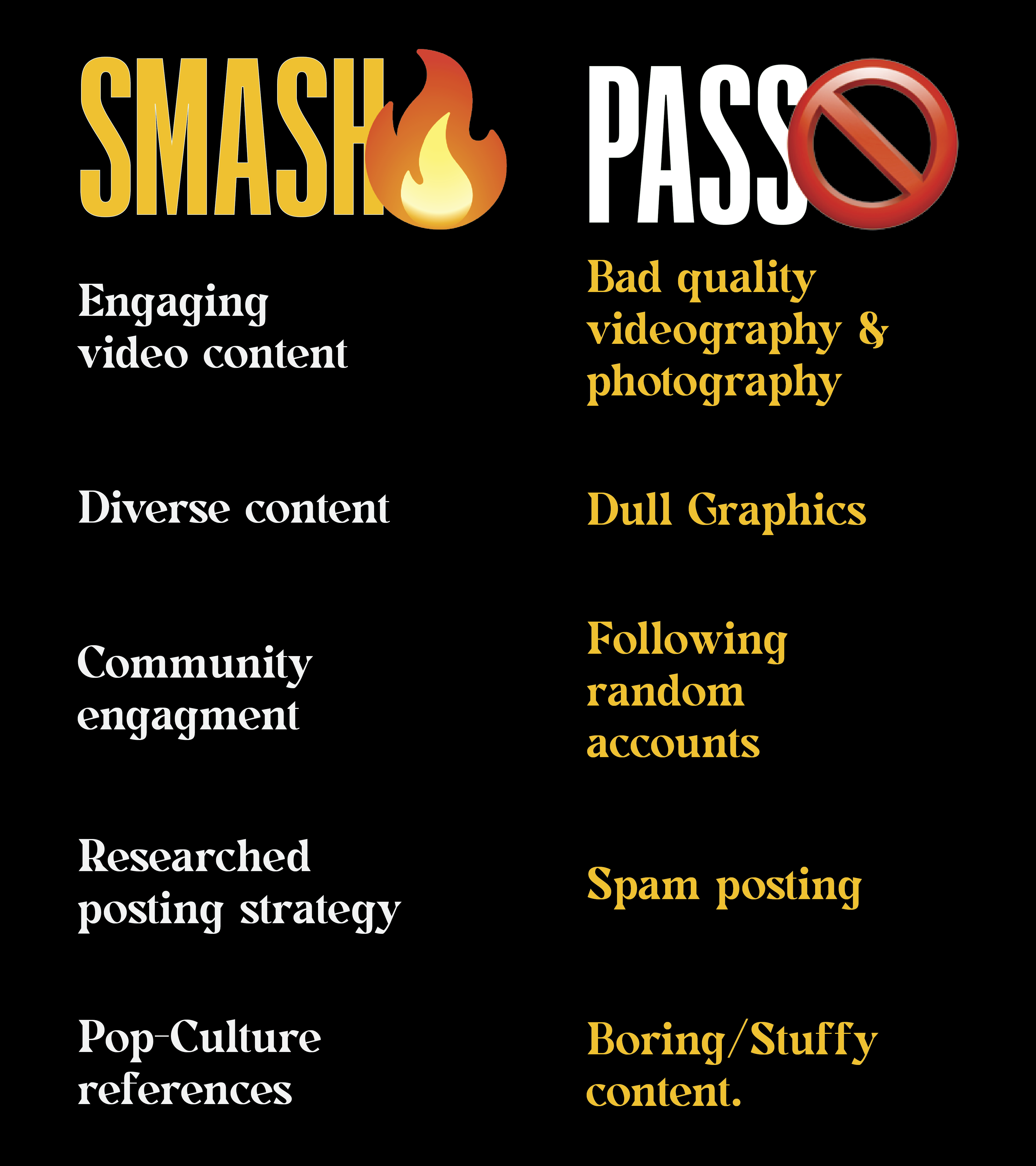 Bottom Line? It's all about experimenting...
We know it's a lot to get right.
Marketing is about testing what works for who.
Get to know your audience by being in a constant state of testing, reviewing and adjusting.
Just remember,
There's no shame in asking for a helping hand.
We're pretty good at getting audiences to hit those high notes.